Description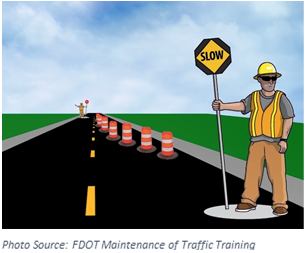 Basic Maintenance of Traffic Flagging qualification is required for any person responsible for temporary traffic control. Responsibilities include:
Stopping, releasing, and slowing traffic including pedestrians and bicyclists using approved devices
Guiding traffic through work zone transitions
Communication with additional flaggers in work zone
Identifying dangerous situations and warning work crews
Ability to physically stand for long periods and move quickly
Be vigilant to approaching traffic, work crews, and phasing during construction operations
Virtual Training & Online Testing
FDOT has approved the UFTI-T2 Center to provide virtual training with a corresponding online-proctored testing session for Basic MOT/TTC trainings.
Virtual training link sent to registered students prior to the training course
Web-enabled device with front facing camera, microphone and speakers required
Training Coordinators
Unique email address required for each student
Training books mailed to address on the student's registration
Please contact us immediately to request alternate mailing address
Dedicated Web-enabled device required for each student
Audio and video required during demonstration exercises and the duration of the online-proctored exam
Exclusive offerings for your group are available, upon request.
Who Should Complete This Course?
Roadway construction crew personnel
Roadway maintenance crew personnel
Emergency responders
Police officers
Road rangers
Training Requirements
Qualified Flaggers must complete the Basic MOT/TTC course conducted by FDOT approved training provider
Successfully demonstrate flagging knowledge through hands-on skills assessment
Renew Qualification
The Basic MOT/TTC flagger course qualification will expire four years after the date of successful completion
Renew flagger qualification through the successful completion of the Basic MOT/TTC course
Course Length