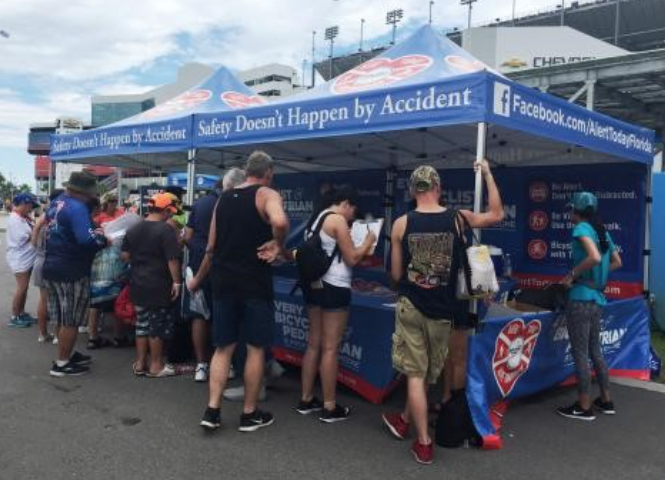 The Pedestrian and Bicycling Safety Resource Center (PedBike SRC) is Florida's online store for free educational materials and resources to address the many causes of pedestrian and bicycle crashes, injuries, and fatalities and to promote safe pedestrian and bicycling activities for residents of all ages. The PedBike SRC coordinates the statewide bicycle helmet distribution program. The PedBike SRC also provides helmet fitter certification and recertification training to more than 4,000 helmet fitters throughout the state and supports Florida's High Visibility Enforcement (HVE) campaigns through the distribution of bike lights to local law enforcement agencies. The PedBike SRC supports the Florida Pedestrian and Bicycle Strategic Safety Plan by serving Florida's at-risk populations located in 25 high priority counties and is funded by the Florida Department of Transportation and the National Highway Transportation Safety Administration (NHTSA).   
UFTI-T2 staff members attend bicycle and pedestrian safety awareness events to fit and distribute bicycle helmets and safety information in support of Florida's Alert Today initiative and to actively engage with safety partners through participation in the Pedestrian and Bicycle Safety Coalition. For more information, contact Paul Simpson at pmsimpson@ufl.edu.
Florida's Pedestrian and Bicycle Safety Coalition
Florida's Pedestrian and Bicycle Safety Coalition is a diverse group of national, state, and local partners, stakeholders, and safety advocates charged with prioritizing and implementing countermeasures that improve the safety of pedestrians and bicyclists.
Alert Today Arrive Tomorrow Focused Pedestrian and Bicycle Safety Initiative
The "Alert Today Florida" campaign focuses pedestrian and bicycle safety-related engineering projects, educational outreach events, paid media advertisements, and High Visibility Enforcement (HVE) activities in Florida communities with the highest representation of traffic crashes that have resulted in serious and fatal injuries to pedestrians and bicyclists.