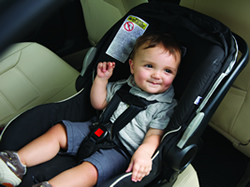 We used to think change came slowly. Now we know change can come in the blink of an eye and with little notice.
As we all adjust to our new reality, we are going to have to discover new ways of completing familiar tasks. Recently Jasper Masciocchi, UFTI-T2 Education and Training Specialist, reached out to a few instructors to hear about how they are handling the new Child Passenger Safety landscape. The resulting conversation yielded some great resources that anyone can use to keep kids safe in car seats regardless of physical distance. Prepare to get a little more tech savvy.
Have you heard about the Virtual Car Seat Check?
A virtual car seat check may or may not work for you and your community, but this could be a tool you keep for when a face-to-face car seat check is just not an option.  Using technology such as Facetime, Facebook Messenger, or Zoom, caregivers and technicians can share all necessary information before the actual car seat installation.  Information on what to bring, what type of vehicle and seat they have, as well as vehicle placement are shared.  All  scheduling, education, and follow-up can be done online.  The actual car seat installation or check can be done at the convenience of the caregivers and the tech. This is just one way we can work within the confines of our new reality. Safe Kids of Northeast Florida has a set of Tips and Tricks for Remote or Virtual Car Seat Education that can help you keep your car seat work moving forward.
While the conversation did not include every instructor, the discussion is likely representative of the concerns and interests of many other Child Passenger Safety instructors and technicians.  The main takeaway from the emails is that people are trying to work away from their normal routine.  They are demonstrating that they are willing to go outside of traditional work routines, hours, and locations to make programs in their areas a success.  
The instructors and techs need forms and processes that work for them, and the Occupant Protection Resource Center (OPRC) is working to make this happen. They want to communicate and report via cell phone with forms they can submit from the field. The ability to complete the process from the field – without returning to the office or a home computer – would be as one instructor stated, "a game changer." We continue working to refine and improve the virtual car seat check and would appreciate any feedback or suggestions. Below are a few tips and technical resources.
The National Digital Car Seat Check Form (NDCF) team has created a guidance document describing use the NDCF while performing virtual seat checks. The new NDCF Guidance Document for Virtual Seat Checks is now posted in on www.cpsboard.org/NDCF . For this document, please look under the heading of "New Information".  
The NDCF program is currently updating the digital car seat check form resource and would like input on the value of specific questions that currently appear on the form. You are encouraged to provide your feedback!  https://www.surveymonkey.com/r/LY2RGKX