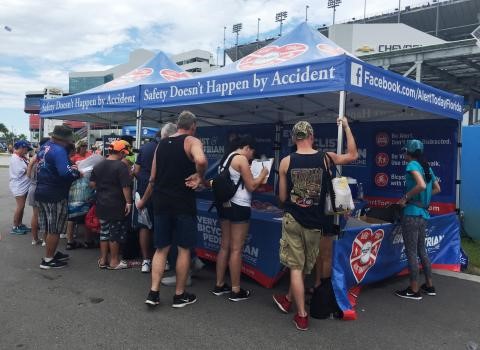 Greetings from the Pedestrian and Bicycle Safety Resource Center! We hope that in these uncertain times, you and your loved ones are safe.
As we navigate life in a new era, we want to reassure you that we are dedicated to keeping you and your community safe and supplied with bike and pedestrian safety education materials. The SRC continues to operate; however, shipping times have been delayed due to having only intermittent access to our location on the University of Florida campus.
We have been working from home for many weeks, and returning to work is on the horizon. Something else that is on the horizon is returning to school for the fall! Governor DeSantis has issued a statement that school would resume at the regularly scheduled time in August. That means Back to School events are in the planning phase.
Back to School events will look a little different this year: more social distancing, more personal protective gear, and more attention to how we interact with one another. If you or your school is planning an event before returning to school, please allow some extra time for order fulfilment. We encourage you to get creative with the way these events look and how the events are conducted. Events may need to take place over the course of several days to avoid crowds. Keeping grades and classroom groups separate may be an option, but you probably have even better ideas on how to make events like this happen.
We must caution you that distribution of helmets must still be accompanied by a trained fitter who fits all helmets for recipients.
Guidance for social interaction can be found at the CDC website. Again, get creative. As usual, signatures must also be collected (signature of parent or guardian or first name only for minor children if no parent is present).
In review, the SRC can fill your orders for educational material and even bike helmets for events in your community.
Please allow additional time for delivery.
If you plan to distribute helmets, they must be fitted to the recipient by trained personnel.
Signatures still need to be collected at the event.
Since we must return to school, let us do so as safely as possible.
Be Safe!
— PedBike Staff