Pedestrian and Bicycle Safety Resource Center Assistant
Projects
Florida Pedestrian and Bicycling Safety Resource Center (Ped-Bike)
Florida Occupant Protection Resource Center
Bio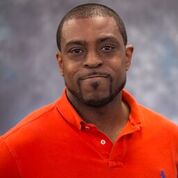 Terrell's full-time responsibility is support for the Florida Pedestrian and Bicycling Safety Resource Center (Ped-Bike) and the Florida Occupant Protection Resource Center. The projects support the efforts of groups statewide in promoting safety. Internally, Terrell manages resource materials and ships resource materials to the many outreach events held around the state at schools, safety fairs, bike rodeos, and more. Externally, Terrell travels to promote safety at a variety of events and participate in helmet fittings. He maintains inventories for the resource centers and assists customers with any questions they may have. Terrell finds distributing helmets to the public very rewarding. He says there is nothing like seeing the smile on a child's face when they find out he has a free helmet just for them.
Terrell has a variety of training and experiences including mathematics and education, working help desks, and supporting educational efforts. He says that his work as a driver/vendor taught him how to provide good customer service. It also taught him to be willing to work outside assigned job responsibilities to achieve team goals.
Terrell likes an active job, as well as problem-solving and helping others. With three children, he can apply these skills at work and at home!
Contact
352.273.1675
tbbarnhart@ufl.edu