RESOURCE CENTERS – TRAINING AND SUPPORT
Bio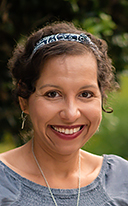 Among Lucy's responsibilities are development and maintenance of the digital resources that stakeholders of the Florida Traffic Safety Resource Center use regularly. That includes the program websites and the stores through which stakeholders order materials. She will also be working to increase the number of digital resources offered on the websites, including child passenger safety (CPS) technician and instructor resources. Lucy will also be leading other initiatives including Safe Routes to Schools (SRTS) program assistance and develop online training materials. Like all UFTI-T2 staff, she'll be part of the team and assist with other program implementation.
Lucy's has been in public health for over 15 years in positions ranging from health education to public policy. He has worked on both statewide projects as well as regional projects in the Tampa Bay area. The intersection of health education and transportation engineering is her professional passion, and she looks forward to bringing her years of experience and training to the programs at UFTI-T2.
Lucy also joins a group of fellow bicycle enthusiasts at the UFTI-T2 Center – this group not only supports bicycle safety, they are true believers in the many benefits of bicycle use. Lucy is a certified League Cycling instructor and is eager to get more people on bikes.