---

It's a pleasure to take a moment to reflect on the past (fiscal) year* – another rewarding year of growth at the T2 Center.
We're so pleased to have offered 132 courses and certified 1,467 transportation professionals who help keep our roadways safe and functional.
A number of these courses were for our entry-level students – of all ages – in Temporary Traffic Control and Pilot-Escort & Flagging. This can be the beginning of a good career in transportation, and with additional training and experience, our students can move up in the ranks to make a good living. As many of you know, more frontline workers are needed in transportation, as they are in all areas of construction, and we wish these students well. We'll be here when they want to take their next step!
We're also pleased to have expanded our offerings in professional development in the latest topics for transportation professionals. Two examples come to mind: Equity in Transportation and Data Analytics. Equity is an exciting topic as transportation seeks to play its role in identifying, reducing, and eliminating inequity. Transportation equity means including equity considerations from the conceptual beginning of a project through its implementation. This course is taught by UFTI's Equity lead, Dr. Mehri Mohebbi, who is joined by industry specialists Joey Goldman, Todd Litman, and Dr. Larry Schooler. In Data Analytics, students learn about new methods of "crunching the numbers" as well as new numbers to crunch, bringing data-driven decision making to their agencies and operations. Check out our course offerings below for upcoming courses, and keep an eye on our biweekly training update for new course offerings.
T2 has always been active with professional organizations, and this year was no exception. We sent teams and made presentations at the American Public Works Association (APWA), the Institute of Transportation Engineers (ITE), the American Society of Civil Engineers (ASCE), and at the Transportation Review Board (TRB) Annual Meeting in Washington, D.C. (Washington in January = cold!). The topics of presentation varied from drainage in construction and maintenance to designing signals for traffic operation and analyzing data to develop local road safety plan to promote highway safety.
Our safety work with under-resourced Florida counties continued as well. Our Transportation Safety Center (TSC) worked with four Florida counties – Suwannee, Taylor, Jefferson, and Wakulla – to provide a crash analysis of their roadways using our crash tree method to find safety hotspots. We are reaching a point where data will soon be available for the earliest counties assisted in this program, and we are eager to see the results, which we fully expect will indicate reduced crashes, injuries, and fatalities on rural roads in those counties where recommended changes were applied.
We are delighted to have started work this year with new partners or in expanded projects with valued partners of long association. Both projects focus on "research to practice" (R2P), helping to improve the relevance and transfer of research results to improve daily operations. We'll be working with CALSTART – a nonprofit organization that works nationally and internationally to help businesses and governments develop "clean, efficient transportation solutions" – and the Federal Transit Administration (FTA) to find ways to increase the impact of research on the practices of public transit agencies. We are also starting work as part of a new project from the Florida Department of Transportation Research Center to examine and increase the effectiveness of its research efforts. We have worked with the Research Center on tech transfer for over 15 years, and this new project, led by Applied Research Associates, promises to increase the impact of FDOT research on transportation statewide, and because the Florida Department of Transportation, through its Research Center, is a national leader in research, we expect impacts beyond Florida. At T2, we are always looking for better ways to make research practical and available and to support the implementation of the best ideas. We look forward to what we will all learn in these projects!
And maybe we've saved the best for last – we welcome the two newest members of the T2 staff: Isabela Picola and Shraddha Sagar. Respectively, they will be working with our grants programs and the Transportation Safety Center. Please meet them "virtually" in the Center News section of this newsletter.
As you can see, things are hopping here at T2! As always, if there's any way that we can help you raise your game in transportation, we're here to help. Give us a shout!
*If this seems like a strange time for year-end reminiscences, please note that our fiscal year ends on June 30 as it does for UF and the state of Florida.
---

Tech Transfer Under the Microscope
"Tech Transfer" is the two T's in the name of our center, T2. Technology transfer, as our website explains, is the process of getting research results into the hands of the people who can put them into practice, in fact, tech transfer is often called "research to practice." The T2 Center accomplishes this process through training, education, professional development, and technical support. Examples include the Safety Edge, a steel form that puts an angle on the edge of asphalt paving where it meets the road shoulder to allow a vehicle easy re-entry if it leaves the road, courses in an exciting new area of planning called Transportation Equity, and advanced crash diagnosis and mitigation for Florida's more rural counties.

Before technology can be transferred, it must be developed through research. The Florida Department of Transportation (FDOT) funds 50 to 60 research projects every year. Most of these projects are performed by Florida's public universities, many of which have distinguished programs in engineering or other fields – from computer science to economics to psychology – that can address transportation issues. Some of these projects are exploratory in the sense of testing if an idea is even practical, and others are preparatory, meaning performing a literature review to find out if an idea is even possible. But most are developmental, in which a product or a technique or a device is developed. Most products, techniques, or devices will require more than one project in order to invent, then lab test, then field test, then report on performance after a certain period of implementation. The goal of the whole process is implementation to produce transportation infrastructure for the people of Florida that is more durable, more effective, more efficient, safer, or more cost effective – some research produces results that cover all of these criteria.
But how can we tell?
A new five-year project, of which T2 is a part, simply titled "Research Center Support" (RCS) and funded by the FDOT Research Center, is intended to answer this question and improve the rate of successful implementation of funded research. RCS is a research project that will follow other research projects through all phases and collect numerical data as well as information from interviews and surveys to examine the strengths and weaknesses of individual projects and the FDOT research enterprise overall, as explained in the Research Center's scope of service for the RCS project:
Perform quantitative and qualitative program, policy, and project analyses to ensure program efforts are optimized, to identify and leverage opportunities to enhance performance, and to identify best approaches to contribute to Department mission and vision. Vendor Services will also be used to support project development, communication, coordination, implementation, and training efforts of the Research program.
The RCS project also includes additional publicity, education, and training to reinforce the tech transfer aspect of the FDOT Research Center's mission. RCS itself will be reviewed on an annual basis to determine the effectiveness of its methods and adjust them as needed to accomplish the desired goals.
The RCS project is divided into 11 tasks, which can be broadly grouped into project evaluation and tech transfer:
Project Evaluation
Project Assessment, Analysis, and Evaluation
Support for the Financial Achievability Model
Research Implementation Support
Research Project Development Support
Program Assessment, Analysis, and Evaluation
Tech Transfer
Editorial Services
Communications Collateral Production
Training Support
Section 508 Compliance and Remediation
Photography, Videography, and Graphic Design
Event Planning and Support
These tasks consolidate into one framework and unified set of processes, a number of procedures that have been administered separately through the FDOT Research Center, as well as some new components. The highly cooperative project structure will be overseen and administered by Applied Research Associates, Inc. (ARA), an employee-owned company with offices throughout the U.S. and Canada that supplies "research, engineering, and technical support services" to a wide array of clients in four major areas: national security​, infrastructure, health solutions, and energy & environment. ARA's familiarity with large-scale and complex operations makes it ideally suited to coordinate the RSC project.
A key component of the RSC is the Financial Achievability Model (FAM; see the second bullet in the list above), which itself has been the subject of a series of research projects as it has been developed and refined by Dr. Patricia Born, an eminent scholar in Florida State University's College of Business. The FAM is a financial analysis framework that aids FDOT in evaluating "the costs and benefits associated with … FDOT research projects." One of the primary challenges in implementing the FAM was identifying the sources of data that it requires. Born and associates developed a series of worksheets to assist project managers in assembling the necessary data to evaluate their projects. Born advises that while "the framework is flexible and can be adapted for use in evaluating different types of projects," project managers may need guidance in accessing the required data for calculating meaningful costs and benefits of research. The FAM puts a quantitative evaluation at the heart of the process that will provide greater clarity in understanding and identifying a project's benefits and also about when these benefits have been achieved and at what cost.
The T2 Center is responsible for Editorial Services and Training Support, bringing to the project two tech transfer services it has already been providing to the Research Center for a number of years. Each research project must include a final report, and editorial services have included a nontechnical editorial review of the draft final report and production of a one-page summary of the project. The final report and the summary are both publicly posted on the Research Center website. Other editorial services that have (been?) included writing articles, producing posters, and other communications tasks are likely to be handled by ARA's in-house staff, but T2 may be asked to contribute to other tasks in this cooperative project framework. T2 training support has been used less frequently by the Research Center. The RSC builds training into the process, and makes T2's extensive training development and delivery program available to produce and deliver training related to research projects that will bring research results more reliably to their intended audiences and promote adoption and use of newly developed methods.
The T2 Center is excited to be participating in this new project, is excited to work with its new partners at ARA, and has great hopes that the excellent cutting-edge transportation-related research being produced through the FDOT Research Center will become more widely known and have a greater positive impact on transportation than ever before.
---

Training courses with UFTI-T2 are being offered at various times as shown below.
Advanced Training
Pilot/Escort Flagging and Temporary Traffic Control
Pilot/Escort Flagging (each course is one session)
9/14/22 – 9/24/22 – 10/5/55 – 10/22/22
Pilot/Escort Flagging Refresher
Intermediate Temporary Traffic Control (each course is 16 hours of training over two days)
9/13–14/22 – 10/4–5/22 – 10/27–28/22
Intermediate Temporary Traffic Control – Refresher (each course is one session)
9/7/22 – 9/28/22 – 10/19/2022
Advanced Temporary Traffic Control (each course is 20 hours of training over two days)
8/31–9/1/22 – 9/21–22/22 – 10/12–13/22
Advanced Temporary Traffic Control – Refresher (each course is one session)
---

UFTI-T2 Welcomes New Staff Members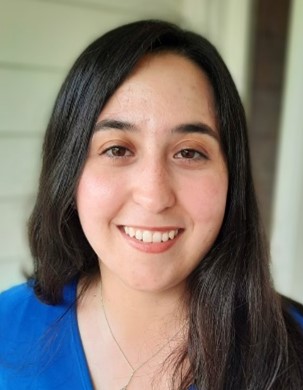 The UFTI-T2 Center welcomes Isabela Picoli to our staff! Isabela joins T2 as an Administrative Support Assistant with the T2 grant programs where she will provide pre- and post-award fiscal support for the Florida Traffic Safety Resource Center, Occupant Protection Resources, and Pedestrian and Bicycle Safety Outreach grants. Isabela comes to T2 with experience as an administrative assistant in financial planning, responsible for managing client information, setting up documents for client investment accounts, and resolving client and vendor issues. Isabela is a graduate of the University of Florida – we welcome a fellow Gator! In her spare time, Isabela enjoys spending time with friends and family, attending church, and going to the beach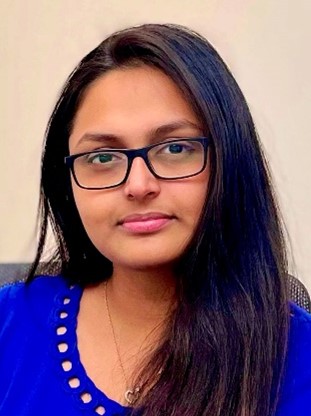 We also welcome Shraddha Sagar, who will be an Assistant Engineer at the UFTI-T2 Center. Shraddha is a graduate of University of Kentucky where she received her doctoral degree in Civil Engineering. After graduation, she worked as an engineer at Gresham Smith, where she consulted in transportation projects for several state DOTs. Her primary area of interest is various aspects of traffic operations, roadway safety, and data analytics. Dr. Sagar has published articles in peer-reviewed journals, including Accident Analysis & Prevention and Transportation Research Record. She has been an active member of professional organizations such as American Society of Civil Engineers (ASCE), Institute of Transportation Engineers (ITE), and the intelligent transportation technologies organization ITS Tennessee.
UFTI-T2 at APWA State Chapter Annual Meeting
The UFTI-T2 Center was privileged to participate in the APWA State Chapter Annual Meeting held in Tampa, FL, on April 19–21, 2022. This marks the 31st year of participation by the UFTI-T2 Center with APWA Florida. This meeting is known as the main event gathering for practitioners and vendors in the Florida public works sector. The UFTI-T2 Center was represented by Scott Tison, the UFTI-T2 Center's lead instructor. Scott was also a featured speaker. In his remarks, he informed the audience about how the University of Florida can assist public works by leveraging resources locally and nationally via established partnerships. Participants also received information on training and available research. Scott also staffed a booth for "meet and greet" with many interested attendees. UFTI branded items and research reports were available in the booth.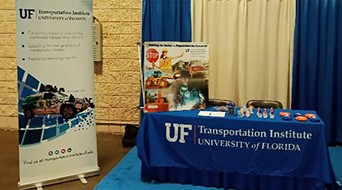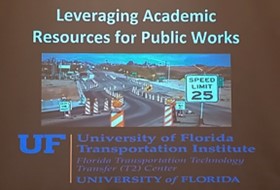 Mark Your Calendar! Florida Occupant Protection Coalition Meeting, October 26–27
The FOPC will conduct its next quarterly meeting on October 26–27, 2022, in Gainesville, Florida. Please visit the following website for up-to-date information: http://www.floccupantprotection.com/.
For more information on this and future meetings please contact Willem.DeGreef@dot.state.fl.us.
Summer Is Over! Be Safe As Kids Head Back to School!
It is Back-to-School season! You might see BTS events in your area along with supplies necessary for everyone heading to school. Backpacks, pencils, and lunchboxes are not all we need to return to school. We also need to heighten our awareness as kids walk and bike and ride to school. Safety is still an important objective for all of us.
While going about your daily life, you could encounter school zones, more kids walking and riding than usual, and traffic that accompanies all the above. Kids that attend your neighborhood school will be on the sidewalks and crosswalks traveling to home room or to meet the teacher. Children – and particularly young children – are among the most vulnerable road users.
As drivers, we must be aware of these additional road users and of their heightened vulnerability. Children often take for granted that adults are watching out for them and can feel as invincible as a superhero. We must use extra caution during the summer to ensure all children get back to school safely.
The SRC has educational resources for walking and cycling available for all Floridians. If you are interested in spreading the word on pedestrian or bike safety, please visit our website and consider becoming a community partner. You can get free resources for your community or school!
https://www.pedbikesrc.ce.ufl.edu/pedbike/default.asp
Statewide Pedestrian and Bicycle Outreach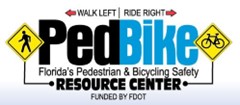 Part of what we do at the Pedestrian and Bicycle Safety Resource Center (SRC) is outreach and community-based events. The SRC has a dedicated outreach person that travels around the state delivering safety presentations, educational materials, and bike helmets to areas that request the effort.
Events must be planned by local groups, organizations, or individuals. It is preferable that the event organizers get the commitment of at least one other group to increase the likelihood of success. This collaboration also fosters an environment where local groups get to know each other and can participate in events on a regular basis.
Events can take many forms; a helmet fitting and giveaway is always a popular event, organized bike rides that have an area for tabling, school safety fairs, "touch-a-truck" events, holiday-based events, the list is endless.
For our part, the SRC will provide resources and the assistance of one of our long-time safety professionals, helmet fitting training and assistance, logo tent and tables for event appearance, and event organization advice. We encourage you to invest in local education and outreach efforts. If you have questions about the program or any of the resources available at the SRC
Plan for Safety!
Our next newsletter will come out just before the holidays. We will be working on safety efforts in the coming months. Take a moment to enjoy the end summer and the beginning of fall, but remember, it is never too early to start planning a holiday safety event!.
The SRC ships helmets and educational resources and is dedicated to keeping you and your community safe and supplied with bike and pedestrian safety resources.
Be Safe! – PedBike Staff
---

FDOT RESEARCH FOR SEPTEMBER 2021 – APRIL 2022
UFTI-T2 compiles a quarterly list of Florida Department of Research (FDOT) research projects that have been completed and published or that have been recently funded. These lists are available in the FDOT Quarterly Research Summary.

SEARCHING FOR SAFETY OR TECHNICAL TRAINING?
T2 can work with you to meet your training needs. Whether you need training in heavy equipment, project management, Traffic Engineering Fundamentals, or any other topics, T2 is here to help!
We can provide an array of trainings geared to equip you with the most relevant information without the need to travel. Let us know your areas of interest, and we will work with our experts to provide training in either instructor-led or virtual formats.
Many of our courses are approved for Professional Engineering (PE) credits.
Please contact Jasper Masciocchi at j.masciocchi@ufl.edu or (352)-273-1685 to discuss your training needs.
---